Or: A Droll Caricature Map of Scotland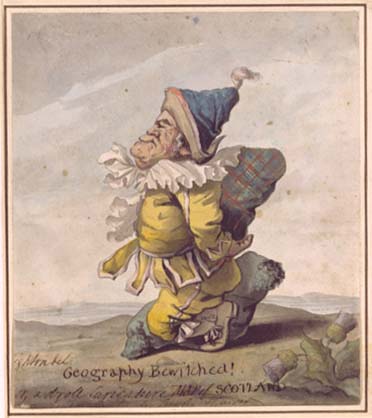 Robert Dighton was a well known painter of portraits and caricatures, as well as decorative subjects, who is regarded as one of the most talented social caricaturists of the late eighteenth, and early nineteenth centuries. Many of his works were issued anonymously, and published by Carington Bowles (fl.1752-1793). Carington Bowles worked initially with his father, John Bowles, before leaving to take over his uncle Thomas Bowles (II)'s business, circa 1762. Carington Bowles was among of the most active mapsellers and publishers of his day in London, as can be seen in the extensive catalogues of his issued in 1782, 1784, 1790 and in 1795 (by his successors Bowles and Carver).
This drawing is believed to be Dighton's original design for his caricature map of Scotland, published by Henry Carington Bowles (Carington Bowles's son) and Samuel Carver, in partnership as Bowles and Carver, circa 1795. London Printed for Bowles & Carver.

The accompanying image is the engraved version of the drawing.