The Bodleian Library is the largest university library in Britain, holding in excess of six million books, and housing one of the World's principal cartographic collections, amounting to around 1,200,000 maps and 20,000 atlases. The Library, named after its founder, Sir Thomas Bodley, opened in 1602, and has been serving its readers ever since.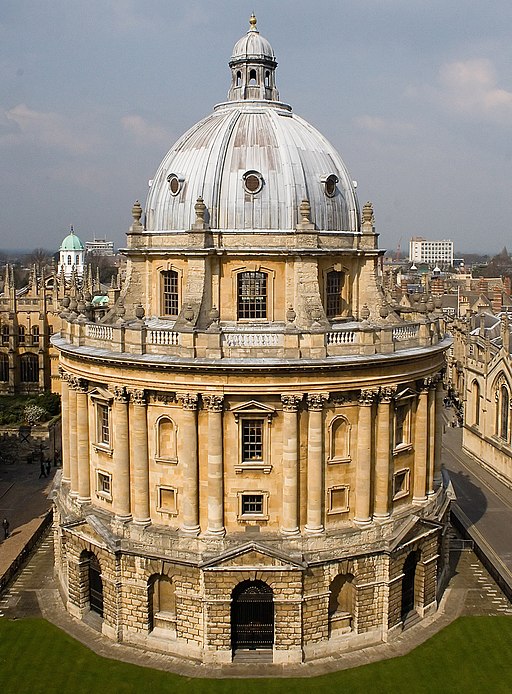 The map collection consists of maps from all parts of the globe, with topographic and thematic maps dating from medieval times to the present day. In addition to maps and atlases, the Map Room holds a comprehensive collection of gazetteers and guide books, which accompany around 6,000 books and 220 journal titles immediately accessible to readers on the Map Room bookshelves, with subject matter concentrating on geography, cartography and travel. Mapping produced by overseas national surveys worldwide can be consulted in the Map Room, ranging from commonly available Western European and North American output to more recently accessible Eastern European material.
As a Copyright Library, the Bodleian assumes not only a university-wide identity, but also a national and international significance, reflected in the wealth of its holdings.
The Map Room home page, updated on a regular basis, offers fuller description
The Map Room home page, updated on a regular basis, offers fuller description.
Brief History
Almost four centuries as guardian of the University of Oxford's academic requirements has produced a veritable treasure trove of library materials. An agreement with the Stationers' Company of London in 1610 established the concept of legal deposit, which has resulted in the continuous deposit of British-published materials ever since.
Further major cartographic acquisitions included the arrivals of Richard Gough's collection of maps in 1809, and more recently the Todhunter Allen collection in 1987. During the late eighteenth century, most of the county maps then being published in Britain were claimed by the Library, while the nineteeth century saw the commencement of the unbroken deposit of Ordnance Survey mapping at all published scales.
A purpose-built Map Room was opened in the New Bodleian Library in 1946, prior to which the Library had no special provision for the consultation of maps. There is  accommodation for fifty readers, in addition to the card catalogue of maps, which currently contains around 240,000 entries.
Antiquarian Mapping
The antiquarian (pre-1850) collection is considerable, including the ca.1 360 "Gough Map" (pronounced "Goff"), the oldest surviving road map of Great Britain.
Some other notable holdings are the Todhunter Allen collection (for more details see below); portolan charts;  numerous, (primarily English), estate plans, for example the Laxton Map of 1635; the Agas map of Oxford (1578), and Hamond's map of Cambridge (1592).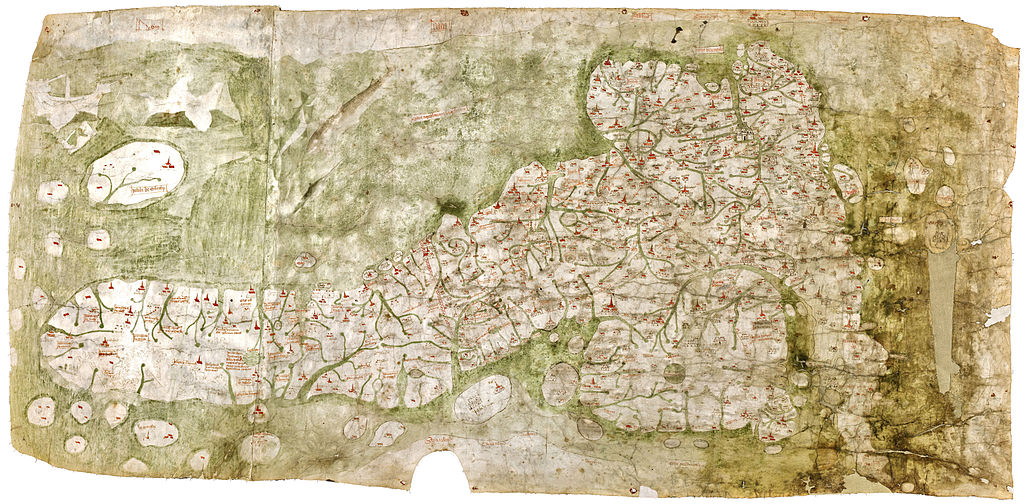 The Todhunter Allen Collection
This collection consists of over 700 items of cartographic significance, illustrating the development of British cartography through almost three centuries. It was collected by Hugh Todhunter and was bequeathed to George Eldred Allen who in his turn went on to increase it significantly. Even during his lifetime the collection was recognised as being of national significance.
There are 113 county atlases on England and Wales, dating between 1617 and 1885. County atlases are collected volumes of maps of individual counties which were usually published separately. As a result of this the make-up of any individual atlas may vary depending on the state of the maps going into it. It is this variation in state and edition which makes the Allen collection so important. Some of the atlases are present in a variety of states – some of which are unique. In several cases the atlases are the only copy available in a public collection.
Also in the collection are county maps, mostly from the late 18th or early 19th centuries. About one third of these are large scale, giving more accurate description of life and landscape in the individual county than the earlier small scale maps.
Further parts of the collection include two sets of the first edition one-inch Ordnance Survey maps, and thematic material such as railway, canal, road and geological atlases.
A cataloguing project has been undertaken in two phases, initially listing all the items in the collection with a view to making a catalogue available in hard copy in the future, and then  transferring this information onto the Library's on-line catalogue, OLIS.
Copying of Maps
As a Copyright Library, photocopying and photographic reproduction of mapping material is limited to items over seventy years old, and is subject to conservation requirements. More information can be found here.
Contact Details
Map Room, Bodleian Library, Broad Street, Oxford, OX1 3BG, United Kingdom.
Telephone:  +44 1865 277013, +44 1865 277014
Fax:  +44 1865 277139
email: [email protected]
https://www.bodleian.ox.ac.uk/maps