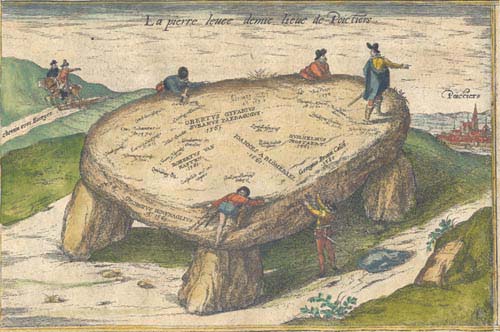 Braun and Hogenberg's Civitates Orbis Terrarum is famed as the first published collection of plans and views of cities (mostly European but with a small number of African, Asia and American subjects). Published between 1572 and 1617, it eventually comprised six volumes, containing 362 map-sheets. As many of the sheets contained two or more plans or views the work is extremely comprehensive.
On a small number of the plates the cartographic editor, Frans Hogenberg, introduced more light-hearted subjects.
This image, found on the sheet depicting Poitiers, published in volume V (1598), was drawn by Joris Hoefnagel, the most important artist-contributors to the 'Civitates', who had a roving commission to travel round Europe drawing the cities and towns for inclusion in the book. The image is signed 'Depinxit Georgius Houfnaglius, Anno MDLXVI'
The 'Pierre Leuee' was a large slab of rock, balanced on four stone legs, about half a mile outside Poitiers.  By the time of Hoefnagel, it had become a popular tourist attraction, with it being customary for visitors to carve their name on the rock, as shown in the engraving.  Indeed, before Hoefnagel sketched the rock, he added his name, visible on the front left hand edge.  However, closer inspection of the rocks also reveals five other famous names from the world of cartography.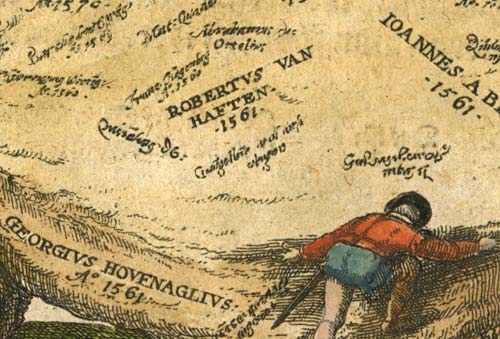 To the left of the standing figure on the rock are the names 'Gerard Merc[at]or' A.o 1560′ and 'Philippus Gallaeus' (Filips Galle). Carved just above the name 'ROBERTVS VAN HAFTEN' are the names 'Abrahamus Ortelius' and 'Franc. Hogenberg A.o 1560'. Just above the figure standing on the ground carving his name, is 'Georgius Braun Colon[iensis]. 1580.'
Mercator and Ortelius need no introduction. Hogenberg, a prominent engraver, worked on the maps for that atlas, before joining Braun in publishing the Civitates. Galle, a prominent Antwerp mapmaker, was a co-publisher of the First Edition of the Civitates, and later prepared the pocket edition of Ortelius' Theatrum, issued in 1577.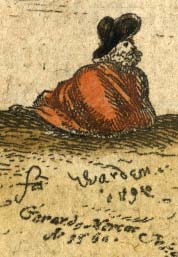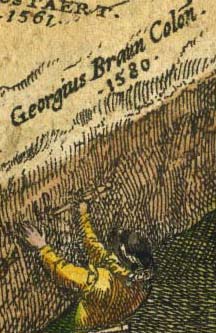 Evidently, this group of friends, who frequently travelled together, visited Poitiers in 1560, and this engraving is the only record of that visit, despite the survival of Ortelius and Mercator's extensive correspondence.   While it is possible that Hoefnagel visited Poitiers twice, it seems more likely that the inclusion of Braun's name on the rock was at Braun's instigation.