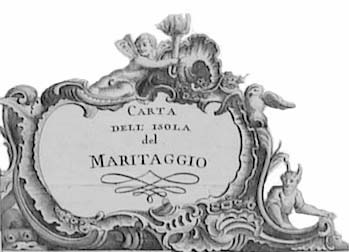 LE NOBLE.
CARTA / TOPOGRAFICA / DELL'ISOLA / DEL MARITAGGIO / DI MONSIEUR LE NOBLE / PER LA PRIMA VOLTA / TRADOTTA DAL FRANCESE IN ITALIANO. / [double rule] [quotation] / [woodblock design] / IN COSMOPOLI, / [double rule] /M.D. C C L X V.  [Italy], 1765.
Collation: 8vo, contemporary marbled boards, calf gilt title label, spine chipped; title, pp. 40, folding map. engraved bookplate (contemporary?) pasted on prelim.
[1] CARTA / DELL'ISOLA / del / MARITAGGIO.'  Map: 240 x 355, platemark: 248 x 366.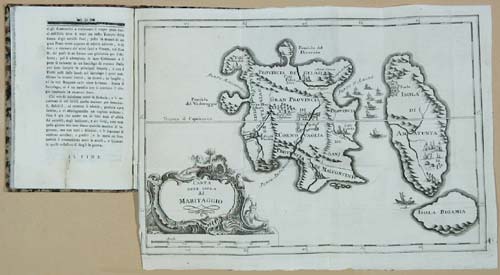 A treatise on the Island of Matrimony, written as a travel book, with 35 pages of text describing how to reach the island, through the ports of 'Love', 'Bad Advice' or 'Self-interest'; and where to live, including the provinces of 'the Jealous' and 'the Cuckolds', and the 'Mountains of In-laws'.
Once on the island it is impossible to leave, but it is possible to go to the peninsulas of "Widowhood' and 'Divorce', the 'Great Mausoleum' and, for the truly masochistic, 'Bigamy Island'.
A theme that runs through the work is the "cuckold", the man with an unfaithful wife: not only does he have a province to himself, but he can be seen in right of the title cartouche (see above). His tell-tale horns are the origin of the famous English "V-Sign".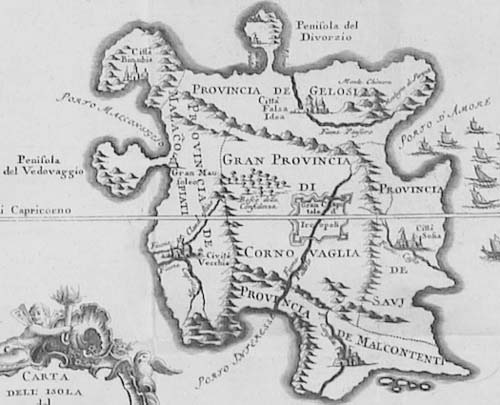 Names that appear in the map include:
Citta Binubia
PROVINCIA DE MALACO[M]PIATI: Province of Incompatability
PORTO MALCONSIGLIO: Port of Bad Advice
Peninsola del Vedovaggio: Peninsula of Widowhood
Gran Mausoleo: Grand Mausoleum
Fiume Clandestino: Clandestine River
Fiume Capricioso: Caprice River
PROVINCIA DE GELOSI: Province Of Jealousy
Peninsola del Divorzio: Peninsula of Divorce
Citta Falsa Idea: City of False Ideas
Monte Chimera: Mount of Illusions
Montagne de Parenti: Mountain of In-Laws
Fiume Pensiero: River of Thoughts
GRAN PROVINCIA DE CORNOVAGLIA: Great Province of Cuckolds
Bosco della Confidenza: Woods of Confidence
Gran Capitale d'Ircopoli: Great Province of Ircopoli
Fiume Pattolo: River of little Pact
PROVINCIA DE MALCONTENTI: Province of Unhappiness
PORTO INTERESSE: Port of Interest
F. Carestia:
PROVINCIA DE SAVJ:
PORTO D'AMORE: Port of Love
Citta Sofia: Sofia Town
Fiume Casto: Chaste River
ISOLA DI AMANTUNTA: Lover's Isle
 ISOLA BIGAMIA: Bigamy Island 
There are other features we have not been able to translate from the slightly archaic Italian, so this item is worthy of further research. The map is featured by courtesy of Masssimo De Martini of Altea Maps & Books, to whom further enquiries should be directed.