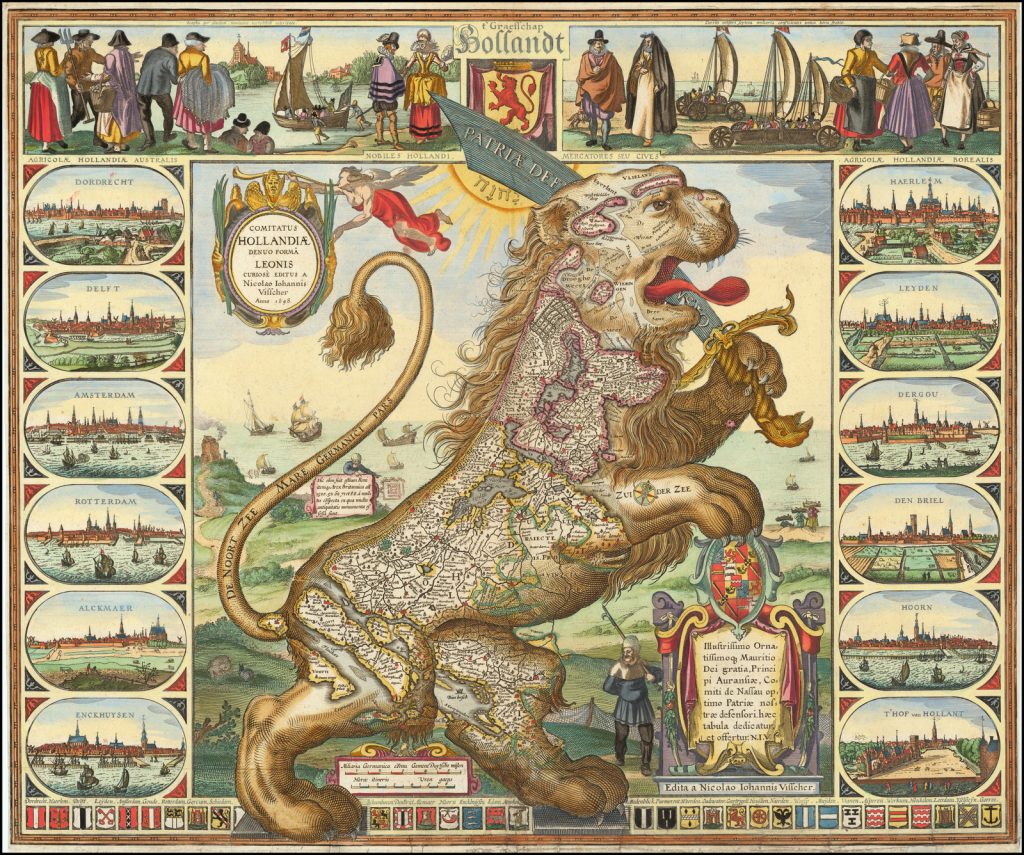 The most famous of all cartographic curiosities is the 'Leo Belgicus', in which the Seventeen Provinces of the low Countries were depicted in the form of a lion. This type was first introduced by Michael Eitzinger (Aitzinger or van Aitzing) in 1583. The idea may have suggested to him by the presence of a lion in the arms of most of the Seventeen Provinces. Whatever his inspiration, the genre proved very popular, and a number of later publishers produced their own versions, some even introducing their own sub-type.
One such group was the 'Leo Hollandicus', where the Seven United Provinces were depicted as a lion. Claes Jansz. Visscher was the first to publish such a map, as shown here.
Since Aitzinger had published his prototype, the political situation had altered considerably. The Provinces has risen in revolt against the Spanish, who succeeded in subduing the southern provinces, but not the seven northern provinces. The Revolt was suspended during the Twelve Years Peace (1609-1621), before resuming, and continuing to 1648, when the Dutch Republic established its independence.
Visscher seems to have first published the map before 1625, the year in which the dedicatee Prince Maurice died. A second example was published dated 1633, while the third state was published in 1648, when the Spanish confirmed Dutch independence.
The map captures the spirit of the young country: its civic pride, with the fine vignette views of the principal cities, the entreprenurial spirit, with the depictions of the iceboat and land yacht, while the lion, standing on its hindlegs, with the large sword bearing the motto 'PATRIAE DEFENSIO'. The 'Leo Hollandicus', therefore, reflects the new independence, patriotism, spirit of defiance and optimism of the Dutch Republic, and this engraving apparently proved a popular encapulation of the popular feeling of the day.


Futher reading:
Heijden, H.A.M. van der Leo Belgicus An illustrated and annotated carto-bibliography (Alphen aan de Rijn: 1990), section F describing the 'Leo Hollandicus', this map no .23.3.