Atlas / ou / Colom Ardante / Demonstrant toutes les Costes de la Grand / Mer, de tout l'Univers, jusqú a Present Cognüs / Fort utile a tous Pilotes Marchands, & Amateurs de / la Navigation Nouvellement Mis en Lumiere. / Par Iacob Colom. / A. Amsterdam. / Aupres du Marche au grain, a la Colomne Ardante. / Avecq Privilege. 1668.
[Title on slip, pasted over English title: True and Perfect / FYRIE COLOM. / Wherein are Described, and Livelÿ Por- / traÿed, all the Coasts, of the Westerne / North and Easterne Zeas. Bÿ / Iacob Colom. / Amsterdam / Printed by himselfe dwellinge on the Cornemarket in / the Fyrie Colom. Ano 1668. / with Priviledge.]
Note: 1v.,45 X 31 cm.,44 charts.
Sea Atlas containing title page, 44 double-page charts of Europe, Asia and America, in contemporary outline color, each printed on thin paper laid on to an additional sheet of paper for support. Six pages of text and printed list of 45 charts (numbers 15 and 16 being assigned to a large foldout chart of the coast of Flanders) in French.Binding restored in late 17th or early 18th century, preserving original spine with French title Atlas de Colom, both covers having been replaced with English paneled calf.
Provenance: Mathew Aylmer, 1st Baron Aylmer.Gilt arms of Mathew Aylmer on front and back covers.
This atlas contains a number of charts previously published by Colom, including several with additional titles in French.Charts numbers 5, 7, 8, 9, 17 and 18 are listed by Koeman under J. Col 9 [1645], and chart number 24, under J. Col 40 (32) [1648], all with additional French titles.However, charts numbers 12, 13, 14, 25(b) and 26(c) in this Atlas also have titles in French and are not listed by Koeman in this state.
This Atlas most resembles the description of J. Col 6 A, published in 1669, in that 34 of the charts are common to both.In his description of J. Col 6A, Koeman states: "The 1669 edition derives its importance mainly from the seven new charts not found in other atlases by Jacob Aertz. Colom." As this Atlas bears the date of 1668 and contains all seven of the aforesaid charts, these can now be dated 1668. Koeman also writes of J. Col 6A: "…The title is not on a slip, but printed on the blank center piece of the frontispiece of P. Goos's sea Atlas." In fact, a comparison of the photographs of the title pages contained in Koeman's Vol IV, number 16 next to page 145 (Colom) and number 21, next to page 193 (Goos), will show that the engravings contain a large number of similar elements that have been placed in reverse order, as well as some elements added and others removed. 
Note: Measurements are actual, differing in some cases from those mentioned in Koeman.Scale was determined using a Natural Scale indicator, measuring off the printed mileage scales or off the latitude scale when available, and differ slightly from those mentioned in Koeman except in the case of charts numbers 5 and 6.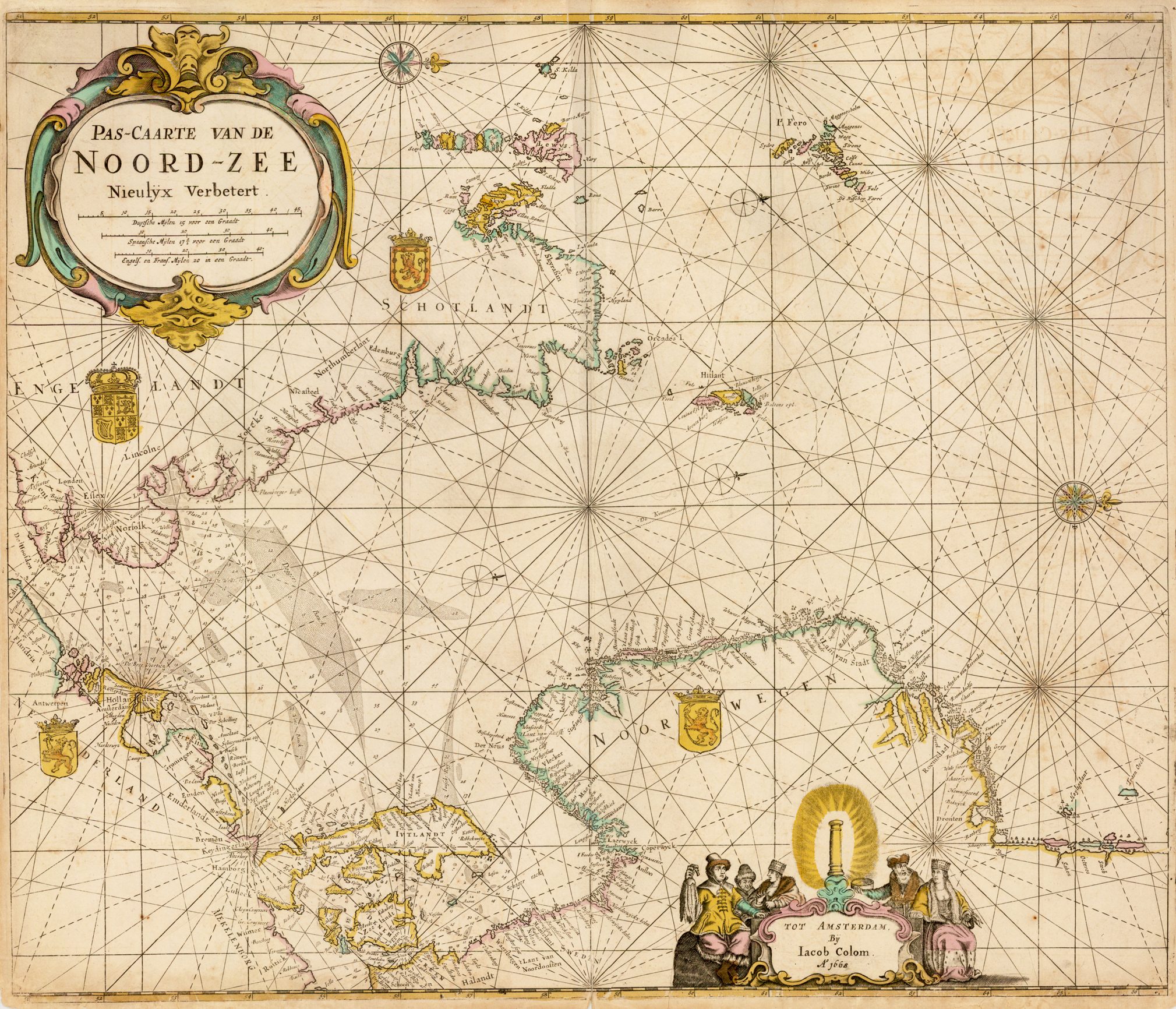 References underlined are those most closely describing the charts.
| | | | | | |
| --- | --- | --- | --- | --- | --- |
| Plate No | Pos | Ref | Title | Size (HxW) | Scale |
| | 1 | Koe J. Col 1 (1); Shirley 381 | Nova Totius Terrarum Orbis Geographica Ac Hydrographica Tabula. Auct. Iacobus Colom. | 38.5 X 54 cm. | 1:100 mill. |
| 1 | 2 | Koe J. Col 1 (2) | Pascaarte / Nieulyx Beschreven / By Iacob Colom / metPrivilegie voor 18 Iaren. Inset: De Noordwest / hoeck van / Ysland.Koeman: "…chart of the whole of Western and Northern Europe on a reduced scale, taken from the Vyerighe Colom…"  | 41.5 X 77 cm. | 1:7.5 mill. |
| | 3 | Koe J. Col 9 (1) | Pascaerte / vande / Noord-Zee / Nieulix Wtgegeven / Door / Iacob Colom. | 42 X 54 cm. | 1: 2.35 mill. |
| | 4 | Koe J. Col 9 (18) | Pascaerte / vande / Oost-Zee / Nieulix Wtgegeven / Door / Iacob Colom. | 41 X 54 cm. | 1:1.7 mill. |
| | 5 | Koe J. Col 7 (3) J. Col 9 (2)J. Col 12 (2) | Pascaarte, / Vande Zuijderzee Vliestroom, / Vlie, en Amelandergat. / (separate cartouche) T'Amsterdam, / Bij Jacob Aertsz. / Colom op 't / Water. Inset:Pampus, / en het / Y/ tot Amsterdam.Add. title: La Mer Meridionale / la Fleuve du Flie, / et les Trous du flie et / 'Amelandt. | 47 X 50 cm. | 1:195,000[Koeman: 1:1 mill.] |
| 4 | 6 | KoeJ. Col 7 (4) J. Col 9 (3)J. Col 12 (3) | Pascaerte vande Wester en Ooster Eemsen, / De Weser, Elve, De Eyder met de ander / Seegaten tußchen Amelandt èn de Eyder. / Tot Amsterdam, / Bij Iacob Aertsz Colom. | 37 X 52 cm. | 1: 370,000[Koeman:1:900,000] |
| V | 7 | Koe J. Col 7 (5)J. Col 9 (4)J. Col 12 (4) | Pascaarte / Vande West en Oostzijde / Van Jutlant Mitsgaders / de Belt tot Flensborch. / Nieulijx Beschreven / Door Jacob Aertsz. Colom. Add. title: Les Costes Marines / Orientale et Occiden: / tale de Iutlande | 37.5 X 52 cm. | 1:675,000 |
| VII | 8 | J. Col 7 (7)J. Col 9 (6)J. Col 12 (6) | Pascaarte vant / Schagerrack. / Ende Custe van Noorwegen tot / Akersondt Beschreven Door / Iacob Aertsz. Colom. Add. title: Carte Marine des / Akersondt et Schagè jusques á Kol. | 36.5 X 51.5 cm. | 1:490,000 |
| 6 | 9 | J. Col 7 (6)J. Col 9 (5)J. Col 12 (5) | (a) Pascaarte van Kol / door de Sont tot om Val: / sterbon als meede de zuijde: /lijxste Eijlanden in de Belt / tot ant Eijlant Rugen. Add. title: Les Costes Marines / de la Belt, et la / Sondtjusques de Valsterbon.(b) De Gelegentheyt / tusschen de Sont / en Coppenhavê / in grootbestec. | 19 c. X 26 c. cm. | 1:475,000 |
| | 10 | J. Col 6A (11) | Noord Zee / van beoosten Amelant Rottum, tot / door de Hoofden Neulyx beschrevê / door / Iacob Colom / opt Water aende Corenmerckt. | 44.5 X 63 cm. | 1:700,000 |
| 5 | 11 | J. Col 6A (12)J. Col 42B (32) | De Cust van Hollant / Tusschen Texel en de Maes / by Iacob Colom opt Water / Inde Vyerige Colom. Koeman states in J. Col 42 B (32): "Printed from two plates.One of them is plate no. 5 from the Upright Fyrie Colomne, the other one contains an extension of the compass lines only." This is not the case in this chart, as it measures half the height (25 cm.) as that mentioned in Koeman (50 cm.).However, chart (24) has been printed from two plates as described above. | 25 X 55 cm. | 1:290,000 |
| 25 | 12 | J. Col 1 (4)J. Col 7 (25)J. Col 29 (28) | (a) De / Teßelstroom / met de / Gaten van / Marsdiep. Add. title: Le Fleuve de Texel les / Trous de Marsdiep et / Goeree et aussi la Meuse. Inset: Caarte vande Reede end Haven van / Medenblick hoemen die Coomende soovâ / t'Wieringer als vriesch vlack bezeylê mogen tot dienst ende nut voor alle Zee / varende Iuyden perfectelyc gemete afge: / peylt ende beschreyve Aº 1614 uyt speciale last vande E.H. Burgemeesteren en de Reger: / ders der vorss Stadt Medenblick.(b) De Mase / met het / Goereesche / gat. Koeman, in J. Col 1 (4): "Remade plate of number 25 in the Vyerighe Colom retaining the number '25' in the upper [actually, lower] right corner, but sandbanks replace the vessel in the lowerleft corner." | 24.5 c. X11 c. cm.25.5 X 37 cm. | 1:200,000 |
| 26 | 13 | J. Col 1 (5)J. Col 7 (26)J. Col 29 (29) | Pascaarte / vande / Wielinghe / 't Veer gat't gat van Zierickzee en / Brouwershaven: Nieulijcx beschreven / door Iacob Aertz. Colom. / Koeman: "Altered state of no 26 from the Vyerighe Colom. Sandbanks replace vessel in lower left corner." Add. title: Carte Marine de Trous de / Wielinges et aussi les Trous de / Zierickzee, et der Veere. | 38.5 X 53.5 cm. | 1:250,000 |
| (2)7 | 14 | J. Col 1 (6)J. Col 7 (27)J. Col 29 (30) | De Custe van / Vlaenderen en Vranckrijk, / Van Wenduynen tot Tresport. en / DeCuste van Engelandt vandt / Voorlandt tot de Cingels / Nieulijcx Beschreven door Iacob A. Colom. Add. title:Les Costes Marines de / Vlanderen et les pas de Calai. | 38.5 X 52.5 cm. | 1:330,000 |
| | 15/16 | J. Col 6A (16) | Paskaert / Van de Zeeusche en Vlaemsche Kusten, / tonende alle drooghte, diepten, en ontdiepten, / tusschen 't eylandt Schouwen en de Hoofden, / curieuselyck beschreven door / Dirck Davidsz. | 42.5 X 92.5 cm. | 1:200,000 |
| XI | 17 | J. Col 7 (11)J. Col 9 (10) | (a) Pascaerte Vertoonende de Mont vande / Teemse en voort de Custe / van Engelandt Tot Crammer. Add. title: Les Costes d'Engleterre / depuis le Voorlandt / jusques à Crammer (b) [Inset] De Reviere / van Londen. / T. Amsterdam. / Bij Jacob-Aertsz Colom | 37 X 52 cm. | 1:300,000 |
| 12 | 18 | J. Col 9 (11)J. Col 29 (15) | De Noort Cust van Engelandt / tusschen Crammer en / de Revier van / Nicasteel. Add. title: Les Costes Marines d' / Englaterre. et Escosse / entre Crammer et Orcades. | 37 X 52 cm. | 1:550,000. |
| XII | 19 | J. Col 9 (12)J. Col 29 (14) | De Custen van Engelandt en / Schotlandt tußchen Timbij en~ / de Eijlanden van Orcaneße. | 39 X 52 cm. | 1:900,000. |
| | 20 | J. Col 1 (8)J. Col 7 (28) | Pascaerte / van / Het Canæl Tusschen / Vranckryck, En Engelant / Van de / west / zijde van Schotlant, / als Mede van Ierlandt, / Nieulix Wtgegeven / Door / Iacob Colom. | 41.5 X 54.5 cm. | 1:1.85 mill. |
| | 21 | J. Col 6A (26) | De Bocht van Vranckryck / oock 't Canaal aen te doen, comende / uyten Westen door Iacob Colom.  | 43 X 64.5 cm. | 1:1.6 mill. |
| | | | | | |
| | 22 | J. Col 1 (9) | Pascaerte / van Vranckryck, Biscayen. en Galissen, Portugael, en / Andalusien, van / Heissant tot de Strate Gibraltar / Nieulix Wtgegeven / Door / Iacob Colom. | 43 X 54 cm. | 1:2.9 mill. |
| I | 23 | J. Col 1 (10)J. Col 6A (28)J. Col 30 (1) | Pascaarte / vande / Middellantsche. Zee / Nieulycx beschreven door / Iacob Aertsz / Colom. | 37.5 X 52.5 cm. | 1:6 mill. |
| 31 | 24 | J. Col 6A (31)J. Col 7 (41)J. Col 40 (32)J. Col 42B (53) | (a) [Right side] Pascarte van Barbarische / cust mitsgaders van de / Carnarische en Vlaemsche / Eijlanden. [W/out the privilege].Add. title: Les Costes Marines / de Barbaria et Algar: / ve de Port a Port jus: / ques a Bajador. (b) [Left side] Custe van Barbaria van / C. de Geer tot verby / C. Verde / By Iacob Colom.Printed upside-down, with two plates, one, 24 X 28 cm. , with geographic information, the other, 14.5 X 28 with extensions of the rhumb lines. | 26 X 36 cm.38 X 28 cm. | 1:7 mill.1:7 mill. |
| 41 | 25 | J. Col 6A (32)J. Col 7 (42) | (a) De Cust van / Barbarijen van Out Mamora / Tot Capo Blanco (b) De Cust van / Barbarijen van Capo Blanco / Tot Capo de Geer. Bij / Jacob Aertsz Colom. Add. title: Les Costes de Barbarije / depuis viel Mamora jus / ques. a Cabo de Geer (c) De Reede van Punte / del Gada int eijlandt / S. Michiels (d) De Reede voor de Stadt / Angra int eijlandt Torcera (e) De / Eijlanden Madera / en Porto Santo | 13 X 51 cm.11 X 12 cm.11 X 20.5 cm.11 X 18.5 cm. | 1:500,000.1:590,000.1:900,000 |
| 42 | 26 | J. Col 6A (33) J. Col 7 (43) | (a) De Eijlanden Lan / cerota / Forteventur / Groot Canarien / Teneriffa en I. / Gomera(b) [inset] De Eijlanden / van / Palma en / Ferro. (c) [inset] De / Tij havens Porto / de Naos en Porto de / Cavallos aende Zuijd: / Oostsijde van Lan: / cerotta. Add. title: Les Costes de Lancerotta. / Forteventura grand Can: / aria Teneriffa I. Gomera. / Palma et Ferro. | 37.5 X 53 cm.25 X 12.5 cm.12 X 15.5 cm. | 1:900,0001:600,000. |
| | 27 | J. Col 6A (34) Burden (Bur) 312 (for ill. of full chart). | [Chart of the South Atlantic] Koeman: "…the lower right sheet of the large Portolan chart of theAtlantic (West Indische Paskaart)…" by Iacob Aertsz. Colom. | 43 X 46.5 cm. | 1: 14 mill. |
| | 28 | J. Col 6A (35) | (a) Zuyd West Cust / van / Africa. / van Monte Negro tot Cabo de Bona / Esperanca van nieus beschreven / By Iacob Colom aende. / Corenmerckt op 't Water. / Anno 1668(b) Inset:Vlees bay; Agoa de S. Bras.(c) Inset:(Cape of Good Hope)  | 43 X 53.5 cm. 9 X 11 cm.18.5 X 13 cm. | 1:1.7 mill. |
| | 29 | J. Col 1 (20)J Col 6A (36) Schilder Map 42 | Oost-Indische / Pas-Caart / Nieulijcks Beschreven / Door / Iacob Aertsz. Colom[This chart together with 31 Oost-Indien /Oosterdeel form a large-scale chart of the Indian Ocean as illustrated in G. Schilder's Australia Unveiled.] | 44.5 X 61 cm. | 1:15 mill. |
| | 30 | J. Col 1 (21)J. Col 6A (37) | Insula / Zeilan / olim / Taprobana / nunc incolis / Tenarisim.Amsterdam. By Iacob Colom opt water.1663. | 39.5 X 50.5 cm. | 1:1.1 mill. |
| | 31 | J. Col 1 (22)J. Col 6A (38) Schilder Map 42 | Oost-Indien / Oosterdeel.[This chart together with No. 29 Oost-Indische /Pas-Caart / Nieulycks Beschreven… form a large-scale chart of the Indian Ocean as illustrated in G. Schilder's Australia Unveiled. This portion of the chart has been updated by filling in the northern coastline of Australia.] | 44.5 X 55.5 cm. | 1:15 mill. |
| | 32 | J. Col 1 (23)J. Col 6A (39) | Insularum / Moluccarum / Nova Descriptio. / Iacob Colom. | 40 X 52.5 cm. | 1:275,000 |
| | 33 | J. Col 6A (40) | Noordoost Cust / van / Asia / van Iapan tot / Nova Zemla. / By Iacob Colom / Aen de Corenmerckt op 't Water.  | 42.5 X 53.5 cm. | 1:12 mill. |
| 60, 61 | 34 | J. Col 1 (12)J. Col 40 (63) | (Map of Northern Scandinavia) Tot Amsterdam / By Iacob Aertsz Colom / Inde Vierige Colom / opt Water. [Inset]:Ian Mayen Eylandt. | 39.5 X 55 cm.12 c. X 11 c. cm | 1: 5 mill. |
| | 35 | J. Col 6A (42)J. Col 9 (14)Bur 398 | Pas caerte van / Groenland. / Ysland Straet Davids en Ian Mayen Ey: / land hoemen deselvige van Hitland en de noort / kusten van Schotland en Yrland bezeylen mach. / 't Amsterdam. / By Iacob Colom | 38 X 52 cm. | 1:8 mill. |
| | 36 | J. Col 6A (43) Bur 399, state 1. | Paskaert / van de Noordelijckste kuste / van / America / Van Groenland door de Straet Davis / en de Straet Hudson tot Terra Neuf / Bij Iacob Colom. / Aen de Corenmerckt. / Aº. 1668. | 42.5 X 53.5 cm. | 1: 8 mill. |
| | 37 | J. Col 6A (44); Bur 374 | Pas caerte van / Terra Nova / Nova Francia Nieuw Engelandt en de / grote Rivier van Canada. / 't Amsterdam. / By Iacob Colom. | 37 X 53.5 cm. | 1:5 mill. |
| | 38 | J. Col 6A (45)[Pascaerte van de Vlaemse, enGroen Eylanden…]Bur 376, state 1. | Pas-Caarte / van de / Canarise, Vlaemse en Groen- / Eylanden, tot de Caribse Ey- / Landen, mitsgaders de zee- / Custen vant vaste Lant, daer / bezuyden, en benoorden, / Door Iacob Colom.1:14 mill. | 42 X 53 cm. | 1:14 mill. |
| | 39 | J. Col 6A (49) | Pas Caert vande / Vlaemsche / Eylanden. / T'Amsterdam, / Bij Iacob Colomop 'tWater.  | 38 X 49 cm. | 1:1.7 mill. |
| | 40 | J. Col 6A (50) | Pas Caert vande / Soute Eylanden, / ofte Ilhas de / Cabo Verde.t�Amsterdam / by Iacob Colom. | 43.5 X 53.5 cm. | 1:800,000. |
| | 41 | J. Col 1 (14)J. Col 6A (46)Burden 375, state 2 | (Nieu Nederlant) T'Amsterdam / By Iacob Colom. Inset: [Virginia]  | 37.5 X 53 cm.10.5 X 11 cm. | 1:2.1 mill1:10 mill. |
| | 42 | J. Col 1 (15)J. Col 6A (47) Burden377 | De Eylanden en de Vastelanden / van Westindien op de Noord zee.Inset: [Gulf of Mexico] | 38 X 53 cm.10.5 X 10.5 cm. | 1: 7 mill. |
| | 43 | J. Col 1 (16)J. Col 6A (48) | (Islands of the Caribbean Sea, Puerto Rico, Trinidad and Margarita, etc.) By Iacob Colom op 't Water. | 39.5 X 53 cm. | 1:2.8 mill. |
| | 44 | J. Col 1 (18) J. Col 6A (51) | 't Suyder-deel van / America / Nieulyx uytgegeven / T'Amsterdam, / By Iacob Colom op'tWater / Aº. 1663. Inset: (Southern tip of South America)Overmits / de Americaensche kusten van R. de Plata / aen de Oostzyde en van La / Conception aen de Westzyde / Zuydwaert in dese Caert / aen een vervolgens niet / vertoont konden worden / zijn die hier in een / bijsonder tafelken / Vervaet. | 39.5 X 53 cm. | 1: 14 mill. |
| | 45 | J. Col 6A (52) Bur 400 | Zuyd-Zee / t'Amsterdam / By Iacob Colom op 't Water. Inset: Japan and part of China. | 43.5 X 54.5 cm.9.5 X 23.5 cm. | 1: 25 mill.1:12 mill. |